A Background
to

English
A cultural reader for intermediate English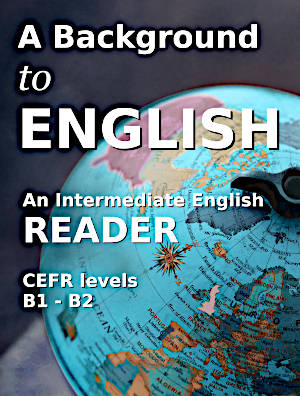 Click for more details.
New publication ....


2023
A Background to English,
A cultural reader for intermediate English - CEFR levels B1 - low B2.
Intermediate reading texts, with exercises and answers
Author: Andrew Rossiter
Paperback - 112 pages
ISBN-13: 9798395179036 Available from Amazon , Barnes & Noble (USA), Blackwell's , Waterstones (UK) Smith and son (France) and good bookstores worldwide
*
Twenty-seven B1 or easy B2 level
texts
, lengths 400 to 700 words.
*
Vocabulary
guides
with each text
*
Audio
texts with British and American voices
* Up to three
exercises
with each text.
*
Anwers
to exercises
*
Tips
for teachers
A Background to English
is a collection of culturally-relevant intermediate English texts, providing valuable insights into the background to modern British and American society
Designed primarily as a background reader for intermediate learners in high school English classes worldwide, this book is also a useful resource for home learning and private study.
As the Oscar-winning Italian film-maker Frederico Fellini once noted,
"A different language is a different vision of life."
Languages do not exist in a vacuum; they evolve over time as an expression of the culture of the people or peoples who have created them. Although English is no longer the expression of one single culture, the culture of England, it remains a language that is born out of - and still often reflects - the culture and mentalities of the English-speaking world, essentially the British Isles and North America
Even the varieties of English spoken in other countries, India, Australia, New Zealand and other places, have their origins in the "mother tongue", and evolve with it.
From intermediate level upwards (CEFR B1) the background culture of the English speaking countries provides valuable insight into the English language. Contemporary English, wherever it is spoken or written, is full of cultural references, historic references, expressions and images that are rooted in British or American life. This reality tends to be recognised in the high school English programmes followed in many countries, where the syllabus includes learning about life in Britain, the USA, Australia and other parts. By contrast, it is often lacking in EFL materials, notably reading resources, devised for use outside the framework of secondary school programmes.
Many of the "readers" available to students - and there are plenty of them online or in book form - have little or no cultural content, and are often filled with anecdotal stories or articles which may be interesting in terms of the language they use, but do little to develop readers' background knowledge of the English speaking world.
This collection of intermediate reading texts is different. Through twenty-seven texts, fifteen about life in the UK, one transition piece (on Charlie Chaplin - the Londoner who became the face of Hollywood), and eleven about life and events in the USA, it explores people, places and events that are part of the "civilisation" or cultural background to the English language. Some texts come with audio which is accessible online.
Contents
- units cover a varied range of topics on the background to modern Britain and the USA, inclujding British Royalty - the English parliament - London - the Beatles - Robin Hood - Charlie Chaplin - Thanksgiving - George Washington - The opening of the West - Al Capone - Hollywood - Plastic pollution..... and seventeen others.

► For local distributors
in
Australia, South Africa, Europe, Americas, Asia See
EFL bookshops
"Linguapress (reading texts) are popular with Japanese universities and two more universities have just used articles in their English (entrance) exams "
Kyogakusha Editions
, Japan, 2023.
"There's such a wide choice of interesting texts, it's difficult to choose "
S.M. Malta 2022
"Linguapress reading texts especially speak to teenagers and young adults, but can equally be used for adult English courses from pre-intermediate to advanced, or merely for the student's self-study......."
ELTAF bulletin
Germany
Also from Linguapress
Published 2020. 210 pages. the highly acclaimed English reference grammar, targeted essentially at teachers and students. A thematic grammar that picks out the simple rules and explains them with clarity with many hundreds of examples. :
E-book
,
paperback or hardback
"
Should be included on your list of reference material..
."
IATEFL Voices
magazine
NEW !
How did the United States of America come to be the place it is today? Through a series of texts, this advanced-level English reader looks at key people, places and events that have come to define the nature and image of modern America.
.
© Linguapress.com 2023 except where otherwise indicated
Contact:
Use the form on our
get in touch
page