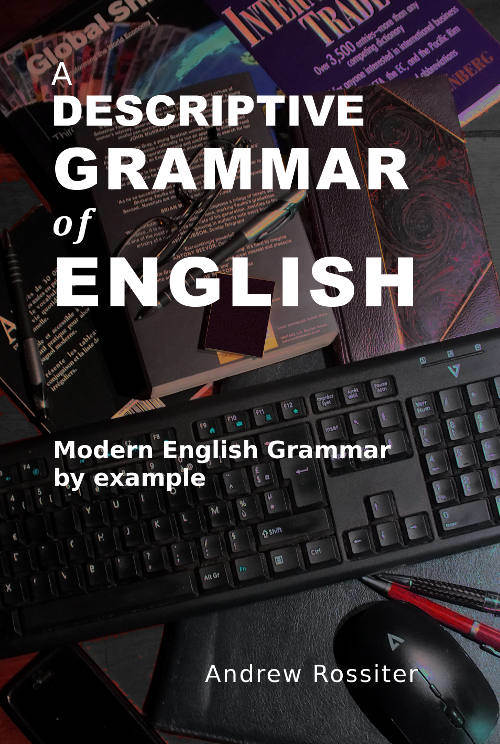 A Descriptive Grammar of English
Modern English Grammar by example
Andrew Rossiter - 2020
207 pages
ISBN-13: 979 - 8645611750
This new Descriptive Grammar of English combines in a single volume the thoroughness of a detailed presentation of contemporary English grammar, with the clarity that is required to
explain
this grammar to students and learners of English. It is a must for the bookshelf or library of any teacher or school catering for students of English, and also for advanced students of English as a foreign or second language as well as for native English speakers.
Available as a paperback, or as an e-book through
Amazon stores worldwide,
it has been praised for being "comprehensive, simple and logical".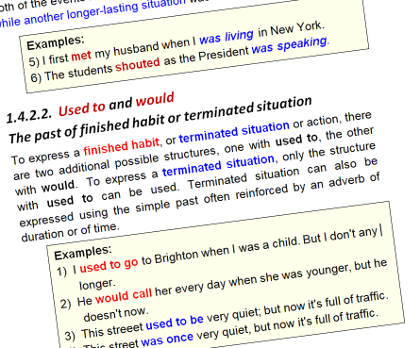 All the essential points of English grammar are presented in detail, and the rules and conventions
explained
(rather than just noted) using language that can be easily understood by readers with at least a reasonable command of English. Particular attention has been paid to avoiding ambiguity and over-complex explanations; and for maximum clarity, color coding is used throughout in order to relate rules and examples, or to highlight differences in structures or meaning.
All sections are copiously illustrated with many hundreds of examples taken from everyday written and spoken English, carefully chosen for the clarity with which they illustrate a rule or a structure of English as it is used today.
Where appropriate, this Grammar distinguishes between written English and spoken English, and in the few cases where they are not significantly the same, between different usages in British English and American English. It includes clearly illustrated sections on styles of English, word order, and punctuation.
The author, Dr. Andrew Rossiter, former head of Applied Languages at the University of Franche-Comté in Besançon, France, has over thirty years of experience teaching and explaining grammar to intermediate and advanced-level learners of English.
►
See book description on Amazon for more details and to view sample pages