A Descriptive Grammar of English
Andrew Rossiter - 2020
Revised and updated 2023 - 207 pages
ISBN : 979 - 8645611750 - paperback (Guide prices: UK £23 / USA: $31)
ISBN : 978 - 2958385507 - hardback (Guide prices: UK £26 / USA: $39) (
►
distributors
)
Kindle E-book from £3.99 / € 3.99
What is descriptive grammar?
Descriptive grammar is grammar that takes account of how a language is really used, not necessarily of how it should be used. Often the two are the same, but descriptive grammar is much quicker on the uptake when it comes to adapting to new ways of using a language. It also takes account of the spoken language as well as the written language. Descriptive grammar is not grammar without rules; but the rules that it proposes are based on contemporary usage, not on some historic precepts.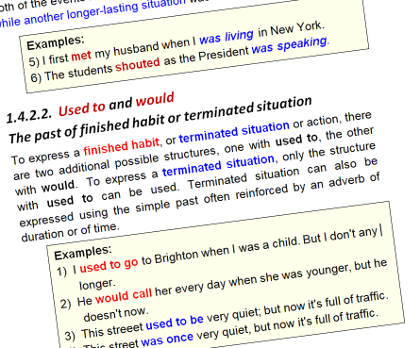 An essential grammar for

teachers

and for

students

.
One of the great problems
in teaching grammar today is that many
teachers
are not sure of their grammar, and don't know how to
explain
when students ask questions. This book provides
simple and clear answers
to most of the questions that
students
are likely to ask, and spot-on examples to illustrate each essential point of English grammar.
This is a book that should be in every school library and on the bookshelf of any student or teacher who can use clear and concise explanations of English grammar illustrated by copious examples.
Whether for native English speakers or for learners of English in EFL, ESL, ESOL or other classes, it offers a thorough presentation of the essential points of English grammar. On the basis of contemporary usage, it extrapolates clear rules and principles, while avoiding much of the confusing linguistic jargon that is the hallmark of many of the classic English Grammars that have dominated the market for the past forty years.
All the essential points of English grammar
are presented in detail, and the rules and conventions
explained
(rather than just noted) using language that can be easily understood by readers with at least a reasonable command of English. Particular attention has been paid to avoiding ambiguity and over-complex explanations; and for maximum clarity, color coding is used throughout in order to relate rules and examples, or to highlight differences in structures or meaning.
All sections are copiously illustrated with many hundreds of examples taken from everyday written and spoken English, carefully chosen for the clarity with which they illustrate a rule or a structure of English as it is used today.
Where appropriate, this Grammar distinguishes between
written
English and
spoken
English, and in the few cases where they are not significantly the same, between different usages in
British
English and
American
English. It includes clearly illustrated sections on
styles
of English, word order, and punctuation.
The author,
Dr. Andrew Rossiter, former head of Applied Languages at the University of Franche-Comté in Besançon, France, has over thirty years of experience teaching and explaining grammar to university and high school learners of English.
Find a bookstore
A Descriptive Grammar of English
is available through
Amazon stores
and main
academic and general bookstores
worldwide.
TIP !
The hardback edition is available in some bookstores for less than the paperback edition in certain Amazon markets. Check out the best prices for your area.
Selected bookstores / distributors
–
and other regional distributors.
Worldwide
distribution through
The Book Depository

►
See book description on Amazon for more details and to view sample pages
.
►
By the same author:
Problem words in English
Check it out !
Referenced on
Academic-self-publishing.com
E-BOOK
FREE
FOR ALL KINDLE UNLIMITED SUBSCRIBERS
DO I NEED A KINDLE

TO READ AN E-BOOK ?

Answer: No!

E-books (and there are loads of good books available as e-books) can be read on any device - PC, Mac, I-phone, Android device - which is equipped with a (free) Kindle reader app.

Just download the free reader app from Amazon, from Google Playstore or from any other reliable download source, and you can then access all the free or paid books you want and read them on your device. Generally speaking, e-books are considerably cheaper than print books.
© Linguapress.com 2023 except where otherwise indicated
Contact:
Use the form on our
get in touch
page