Expressing
dates

in English
Numbers 4 : dates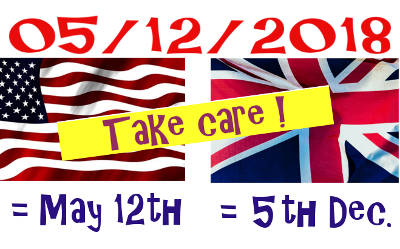 This is a point on which British English and American English differ.
When dates are expressed in words, this is not a problem, as the use of full words will identify the date with no possible ambiguity.
Writing dates in figures
When writing dates in figures, it can be vital to know whether one is writing for British (or European) readers or American readers. If there is any doubt, or if one is writing for an international readership, it may be necessary to use words rather than figures, in order to avoid ambiguity.
Example:
04/05/2021
means "the fourth of May 2021" in British English
but it means "April fifth 2021" in American English
Written and spoken dates
Any date can be written or spoken in several different ways, using figures or a combination of figures and words.
It is important to note that in
spoken
English, dates normally include the words
the
and
of
: these are not normally written.
Example:
20th May 2018
Spoken version: British or American English:
The twentieth of May twenty-eighteen
Spoken version: American English:
May twentieth 2018, or May the twentieth 2018
Written version: British English:
20th May 2018 or 20 May 2018
Written version: American English:
May twentieth 2018 or May 20 2018
Interestingly,
American usage
is not consistent. While Americans always write numerical dates using the order Month > Day > Year, America's national holiday, Independence day, is commonly known as '"The fourth of July" or "July Fourth"; and Oliver Stone's 1989 movie is entitled "Born on the Fourth of July".
British speakers
may also use the American form as in "May the twentieth", but when writing, the logical order Day > Month > Year is always used.
Years
In both British and American English, years are generally expressed in spoken English as two two-digit numbers. The only exceptions are years ending in -00 to -09
Examples:
2015
Twenty fifteen
2007
Twenty oh-seven (or two thousand and seven)
2000
Two thousand
1995
Nineteen ninety-five
1776
Seventeen seventy-six
The use of "Two thousand and...." for years following 2000 was common at the start of the millennium, but has now almost been lost in British English, and is fading in American English, as Americans return to the more traditional format.
Abbreviating dates
When writing dates, it is common to abbreviate the months of the year to three letters normally followed by a full stop or period. September can be reduced to three or four letters.
Jan. Feb. Mar. Apr. May Jun. Jul. Aug. Sep. or Sept. Oct. Nov. Dec.