Recommended for teachers and students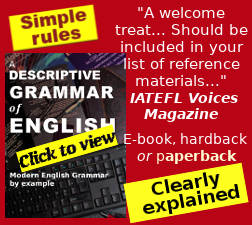 Irregular verbs with invariable forms
Present
Simple past
(preterite)
Past participle
Notes
bet
bet (or betted)
bet (or betted)
bid
bid (or bade)
bid
burst
burst
burst
cast
cast
cast
and broadcast
cost
cost
cost
cut
cut
cut
hit
hit
hit
hurt
hurt
hurt
let
let
let
put
put
put
quit
quit (or quitted)
quit (or quitted)
read
read
read
Note the sound changes:
[ri:d], [red], [red]
rid
rid
rid
set
set
set
and upset
shed
shed
shed
shut
shut
shut
slit
slit
slit
spread
spread
spread
thrust
thrust (or thrusted)
thrust
The verbs
wet
and
wed
are sometimes listed as invariable, but this is not the case in modern English as past forms in
-ed
are as common, if not more common, than the old invariable forms
Go to Group 2:
verbs whose form changes in the preterite and/or past participle
Page ready to

print

Copyright information.
Copyright by Linguapress. Free to view, free to share, free to use in class, free to print, but
not free to copy
..
If you like this page and want to share it with others, just share a link, don't copy.