EFL / ESL resources index :
advanced English crosswords
Advanced themed vocabulary crosswords INDEX
New ! Recommended for teachers and students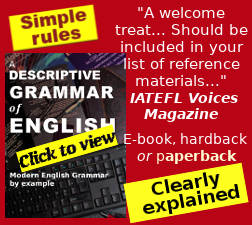 These
thematic graded crosswords
and other puzzles are meant for students of English as a foreign language or second language at advanced level. They are particularly designed for students in the final years of high school or in further education (grades 10-12 , sixth forms or adult learners) . Designed to develop or test vocabulary in specific fields, they generally use British English spelling (where it differs from American English), and were originally designed for students in European high schools or further education.
►

Advanced

level English, themed EFL / ESL crosswords.

NEW

interactive crosswords

can be filled in on the screen - or printed too, of course.
►Other types of word games .

Copyright information.
Free to view, free to use, free to print, but
not free to copy
.
All word games puzzles and other pages on Linguapress.com are © copyright Linguapress.com unless otherwise indicated.
Teachers are free to reproduce these resources on paper for use with their classes, and students are free to print out personal copies of materials from Linguapress.com.
However reproduction of pages from Linguapress.com on any other publicly accessible website is strictly forbidden – and pointless. Teachers : please direct your students to the page on Linguapress.com instead.
Bookmark
this page for future reference.