English word games - advanced level
EFL / ESL - level B2 - C1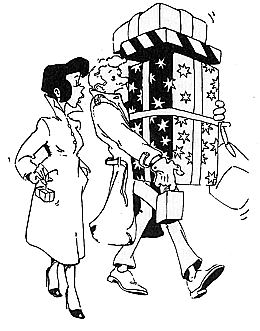 Advanced level EFL resources: word games and crosswords
Shopping CROSSWORD
Shopping - thematic vocabulary EFL resource

A thematic crossword for students of English as a foreign language, or English as a second language. All the answers to the crossword have something to do with shops and shopping.
Interactive crossword - can be filled in on screen. Put in just one letter per square.
To save your result print, print to file, or take a screenshot

| | | | | | | | | | | | |
| --- | --- | --- | --- | --- | --- | --- | --- | --- | --- | --- | --- |
| 1 | | | | 2 | | | | 3 | | | |
| | | | 4 | | | | | | | | |
| 5 | | | | | 6 | | 7 | | | 8 | |
| | | | | | | | | | | | |
| 9 | | | | | | | | | | | |
| | | | | | | | | | | | |
| 10 | | 11 | | | | | | 12 | | | |
| | | | | | | | 13 | | | | |
| 14 | | 15 | | | | | | | | | |
| 26 | | | | 16 | | | | | | | |
| | | 2 | | | | | 17 | | | | |
| 18 | | | | | | | | | | | |
CLUES ACROSS
1. What you must do before you take your purchases from the shop!
2. Some shops offer free ________ of goods to your home, if you spend enough money!
5. A traditional means of payment.
7. Goods in a shop, ready to be sold.
9. An article which is being promoted at a cheaper price than usual (7,5)
11. Structure behind which the shopkeeper stands in a traditional small shop.
13. Following... or the name of a fashionable English clothes shop.
14. In England, very few shops ______ for lunch-time.
16. Cardboard container.
17. Personal journal: many people buy one before Jan. 1st.
18. Wheeled container used by shoppers in supermarkets.
CLUES DOWN
1. Puts things into a container.
3. A tax on things you buy in a shop in Britain (initials).
4. The desk where one pays, before leaving a shop. (5,3)
6. A shop which has multiple branches in different places (5,5).
7. Taken without being paid for.
8. Also called "plastic money" (6,4)
10. Container for putting your shopping in.
12. To sell directly to the general public.
15. The opposite of "do".
.
Copyright notice.
This document is copyright © Linguapress.com Updated 2020.
It is
free to use and print
for individual use, or for use by teachers with their classes.
It may not be reproduced on other websites or in print form for distribution.
In schools declaring the source of copied materials to a national copyright agency, Linguapress advanced level crosswords and resources should be attributed to "Spectrum" as the source and "Linguapress France" as the publisher.
Click here for the
solution
(but do the puzzle first!)