Linguapress advanced level EFL resources: word games and crosswords
BUSINESS ENGLISH crossword - 1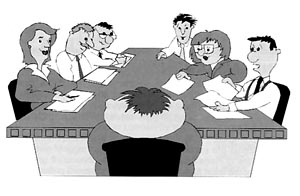 A thematic crossword for students of English as a foreign language, or English as a second language. Most of the answers to the crossword have something to do with the world of business and commerce.
CLUES ACROSS
1. Boss, man in charge of a company.
5. Something a businessman may take, and lose
7. Trade, buying and selling things
9. Speak
10. "...... well" means "be successful".
11. Buy
12. Animal.
13. Reserve of unused or unsold goods.
14. Very bad period of recession for industry and trade.
15. A written agreement.
17. Opposite of "closes".
20. Labour organisations in industry.
21. Neither ... / ...
22. To manage, to organise.
23. To come together in the same place.
24. Man to whom a family business is often given.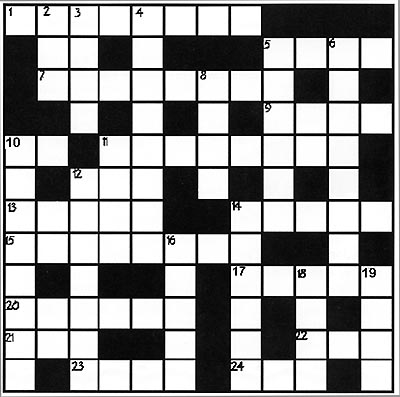 CLUES DOWN
2. Abbreviation often found after the name of an American corporation.
3. Part of a building.
4. Essential equipment in most firms today.
5. Selling to the general public; opposite of "wholesale".
6. Man who sells.
8. Opposite of poor.
10 . A reduction in the usual price.
11. A share.
12. To repeat something, usually in written form, in order to be certain.
14. Reserves (different word from 13 across).
16. Something of positive value.
18. To make money.
19. Do this to a letter, to make sure it arrives!
Click here for the
solution
(but do the puzzle first!) Or try
another business English crossword
Copyright information. © linguapress.com. Copying to any other website is not permitted. Teachers wishing to make this resource available to students are welcome to link directly to this page.
Reproduction is authorised exclusively for personal use by students, or for use by teachers with their classes. Multi-copying of this resource is permitted for classroom use. In schools declaring the source of copied materials to a national copyright agency, Linguapress advanced level resources should be attributed to "Spectrum" as the source and "Linguapresss France" as the publisher.
More coming.... Follow
Linguapress on Facebook