►
You are here:
Linguapress
› Teaching ideas › Using written texts
The Linguapress archive
Reading resources in graded English - from low intermediate to advanced - A2 to C1
The Linguapress archive
Useful for teachers & students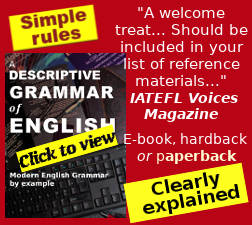 Disponible aussi
en français
In the age of Twitter, teachers can often be heard lamenting the fact that their students are no longer able to write or read anything longer than 140 characters. Hopefully this is an exaggeration! But whether it is or not, the lament is symptomatic of an age where, according to surveys worldwide, today's students have more difficulty than those of previous generations in reading and understanding extended texts.
Linguapress online offers a wide and growing choice of free-access reading resources for students of English as a foreign language, or English as a second language, from age 15 upwards, in high schools and other types of language school worldwide. The large majority of reading resources on Linguapress.com are longer than the classic 300 - 500 word documents commonly used for testing, and offered on many Internet sites. But
teaching
and
testing
are two very different activities. Resources published on Linguapress.com are not just basic documents to test comprehension; they are there to help students
learn
,
not just help them pass tests
.
Unlike press cuttings and excerpts from books, the majority – though not all – of the articles and stories published on Linguapress.com have been written or edited specifically with learners of English in mind. In addition, they come with vocabulary guides designed to help the non-native English speaker with some of the more difficult words or expressions.
The original Linguapress newsmagazines, published in print until 2001, contained many topical articles related to news and current affairs, including music and cinema. The majority of these are now out-of-date nd have not been reproduced in the Linguapress online archive.
Those items that have been retained for republishing on Linguapress.com tend to be those that have a
timeless or cultural interest
, articles about life, ways, traditions and icons in the English speaking countries, mainly the USA and Britain. Others include the transcripts of discussions with teenagers and young people in Britain, on subjects that remain as important, and as interesting, today as they were when they were first recorded in the 1990s.
While teachers may find many articles and stories that are not appropriate for their particular teaching environment, there should be plenty of interesting reading resources for all those teachers who realise that teaching English is more than just teaching words and phrases, but involves also teaching students to understand life and culture in the English speaking countries, and letting them see how people, notably younger people, live and think.
Approaching the written text - reading comprehension
Articles, interviews and discussions on Linguapress.com are suitable for
private study
and
use in class
. Each text is accompanied by exercises and ideas for teachers, for use in class. While all documents can be used as "reading comprehension texts", articles in the LInguapress archive are accompanied by a range of different exercises and activities to developdifferent language skills, including vocabulary acquisition, careful reading, free expression, rephrasing, punctuation, and more.
Going further:
►
Ideas for
reading comprehension in the ESL/EFL class
Go to the Linguapres archive :
intermediate texts
-
advanced texts