Linguapress
Advanced English

American society
A trip along America's historic Route 66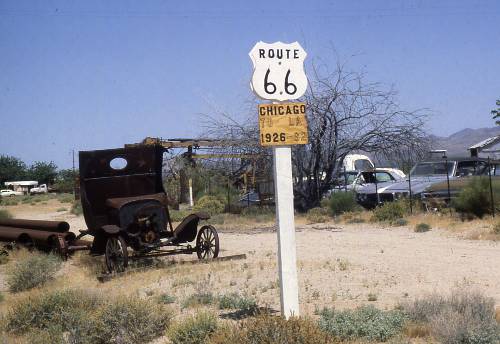 The car is the cornerstone of modern American life; yet cars need roads, and so the road too is a cornerstone. But while cars have regularly been raised to the status of
cult objects
in song, poetry and film, roads have tended to keep a more
prosaic
image. Occasionally there have been exceptions: Bob Dylan named one of his most famous albums for a road —
Highway 61 Revisited
— and Jack Kerouac gave pride of place to a highway in his classic novel
On the Road
. Yet in the culture and history of twentieth century America, one highway stands out from the rest; and although it no longer exists, except in small sections here and there, "Route 66" is without the shadow of a doubt the most famous highway in the United States of America.
Steinbeck, who knew it well, called it "the Mother Road". It was the road taken by the Joad family in
the Grapes of Wrath
; for them, as for hundreds of thousands of real-life dustbowl refugees, Route 66 was the road that led from the hell of dusty Oklahoma to the paradise of California, where the peach trees and vines were always laden with
succulent
, luxurious fruit, just waiting to be picked. At least, that was the popular myth.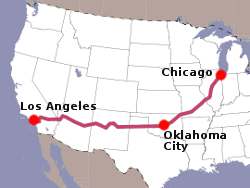 Those who like listening to American music may have heard the song Route 66, originally recorded by Nat King Cole, and since then re-recorded dozens of times by a
bevy
of artists including The Rolling Stones, Chuck Berry and Depeche Mode: the words of the song detail the full itinerary of the US Highway 66, which "
winds
from Chicago to L.A., more than two thousand miles all the way."
Today, little is left of the most famous of all America's highways. Here and there, in Illinois or in Kentucky, sections of the famous road still display the sign 66; but 66, where it does survive, is no longer a key element in a continental highway system as it once was — just a local highway linking neighboring towns. The development of America's transcontinental system of divided-highway "
interstates
" during the 1950's and 1960's meant that the Mother Road rapidly became obsolete, and in 1977, fifty-one years after it was created, U.S. 66 officially ceased to exist. By then, almost everyone wanting to "motor west" was using the main east-west interstates, I-40, I-60 or I-80.
It was in 1926, the year in which Henry Ford launched the Model-T and put the automobile in reach of the ordinary American, that officials decided that the U.S.A. should have a
federal
road network. In Oklahoma, a businessman called Cyrus Avery, who quickly saw the advantage of bringing a transcontinental highway through his state, immediately started lobbying officials to create a single highway running all the way from the Great Lakes to the Pacific, and passing through Oklahoma; it would be the longest federal highway in the U.S.A..
Avery's plan was accepted, and the number 66 was chosen — a nice memorable number. Avery and others wanted to attract business to the road and all kinds of promotional activities were organized, including an amazing trans-America running race from L.A. to New York, via Chicago; of the 275 runners who began the race, 55 actually ran the whole way.
When it opened, only 800 of the 2,400 miles were paved; the rest were just
gravel
or earth, and it was not until 1937 that the whole route was paved. Even then, however, it was a hard journey. In winter time most of the route ran through bitterly cold regions; and in summer, the sections through new Mexico, Arizona and the California desert were extremely hot. In those days, cars regularly overheated, passengers needed regular
sustenance
, and the service stations, restaurants cafés and motels that appeared at short intervals all along the route did a good trade.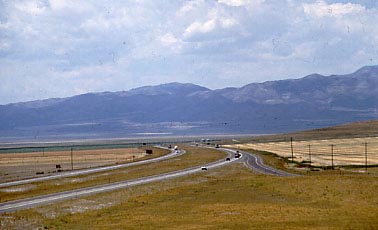 When, bit by bit, 4-lane interstates replaced the old highway, business collapsed very rapidly for many of those who had helped so many travelers on their way. In agricultural regions, towns and communities could survive without the road, but in the sparsely-populated desert areas, many small communities just disappeared. Today, for instance, nothing but a solitary palm tree and a wooden sign­board marks the site of the one-time Bagdad, California. Elsewhere, empty roofless stone buildings that were once garages or hotels stand abandoned to the wind and the elements. On some sections of the old road, cars pass by at the rate of one an hour or less
Perhaps in coming years, there may be a few more; the story of Route 66 is coming to be recognized as history, and a few adventurous travellers are driving along sections of it, reliving the spirit of the past. Yet few, very few, travel the whole road, or what is left of it. Even in an air-conditioned Cadillac, Route 66 remains what Woody Guthrie called "a mighty hard road."
Route 66 is a road for people with time to spare, and a taste for a long journey. Scottish TV presenter Billy Connolly spent weeks travelling the route from end to end, for a four-part TV documentary;
CLEAR, CONCISE and COMPREHENSIVE
Discover

grammar

in a new light
"A breath of fresh air" - IATEFL Voices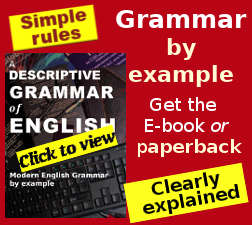 Print & ebook from
Amazon
,
Print
book from
Barnes & Noble
,
Waterstones
& other good bookshops
Difficult words:
cult object:
object that is treated with almost religious respect
- prosaic:
banal -
succulent
: juicy -
bevy
: collection -
to wind
(pronounced like "wined"):
to twist and turn -
interstate:
a motorway -
federal
: national -
network
: system -
gravel
: sand and stones -
sustenance
: food and drink.

Copyright notice.
This resource is © copyright Linguapress - Originally published in Spectrum magazine.
This text may not be reproduced
on other
websites
nor in printed form without written permission from the publishers. Reproduction is authorised exclusively for personal use by students, or for use by teachers with their classes.
---
Student worksheet
Exercises:
* Vocabulary: Select the nearest equivalent for the following words and phrases used in the article:
A.
Gave pride of place
: 1 gave prominence to, 2 gave a new role to, 3 gave up
B.
Stands out from:
1 is better than, 2 is older than, 3 can be distinguished from.
C.
Without the shadow of a doubt
: 1 certainly 2 probably 3 perhaps
D.
Laden with
: 1 covered with, 2 accompanied by 3, full of.
E.
A key element:
1. a limited access road, 2 an essential part, 3 an industrial route
F.
Obsolete:
1 too popular, 2 no longer adequate, 3 old fashioned
G.
Lobbying:
1 telling, 2 trying to persuade, 3 paying.
* Written expression: Free composition.
The year is 1930. You are driving, with your family and have just reached Dry Creek Station, Arizona, en route for California. Write a letter home to your friends in Oklahoma, describing the road and the journey.
* Comprehension: Read the article, then put these events in the right order.
1. Nothing remains of Bagdad, California, except a palm tree and a sign.
2. Only 800 of the 2,400 miles were paved when it opened.
3. The U.S. Government decided to create a federal road network.
4. Number 66 was chosen for the road.
5. The road officially ceased to exist.
6. Cyrus Avery began lobbying for the road.
7. A trans-American foot race was run.
8. Interstates were developed all over the USA.
9. Avery's plan was accepted.
10. Depeche Mode recorded the song Route 66.
Once you have established the right order, link the sentences in pairs, and use them as the basis of a synopsis of the story of Route 66 in 200 words.