Linguapress
.com
- Languages and English studies portal
Learn English in England or the UK
Tips and advice for choosing the best English course for

you

.
This information was created before the

Covid-19

pandemic. Since then, many things have changed. It is to be hoped, though it is by no means sure, that the situation will return to normal once the virus has been defeated.
Published by Linguapress
Ebook from $3.99 or €3.99
FREE to Kindle Select subscribers
Paperback available worldwide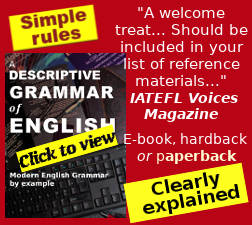 Even so, the new normal will not be like the old normal; a number of language schools in the UK have had to close. Others will follow. Brexit has not helped the UK's language schools either. In the new post-covid world, it is likely that more language schooling will be done locally, and more will be done online.
The English language has become so important in global terms, that language schools and language tourism in general have become a significant sector of the British economy. But of course England is not alone, and there are schools teaching English as a foreign language in other parts of Britain too, as well as in America, Australia and indeed all the main English-speaking countries of the world, and many more countries too.
But

what is the best way to choose a language school?

Where is it best to go? What sort of course is best ? There are so many options that many students of English find it hard to make the best choice. Here therefore are a few useful guidelines and tips to help you find the best type of language school or language course to suit your needs.

---
Different types of language school ...
There are language schools everywhere, but the areas in which they are most concentrated are the south coast of England, London, Oxford and Cambridge. Some schools belong to major national or international chains, others are independent; some language schools are big, others small, some are permanent, notably those offering courses in
business English
, others just appear during the main school holidays (notably those offering
English courses for schoolchildren
). There are even schools that combine learning
English with sporting activities
or cultural activities, such as
English & theatre
, or
English and music
.
The cost
The cost of a language course in England car vary enormously. Factors affecting the cost include, notably:
The

size of classes

: smaller classes mean higher costs.
The number of teaching hours: some courses may just include 10 hours of classes a week, others may offer up to forty.
The services provided; does the school have a library, a computer room? does a course include just classes, or are other activities included?
What does the cost cover? Just tuition (teaching), or does it include

activities

? Or is it an

all-inclusive

residential course, including accommodation ?
Specialised courses in business English are often more expensive, notably in schools that cater particularly for a business clientele, and have contracts with international companies. But in such cases, the extra cost is often worth paying.
EFL courses in England, organised from your country ?
Throughout Europe, in particular, there are organisations that run English language courses in England, specially designed for students from a given country. French organisations run courses for French pupils in England, German organisations do so for schoolkids or businessmen from Germany, and so on.
The advantage
in choosing this kind of solution is that you can arrange everything in your own country. These organisations usually take care not just of the language courses, but also of travel and accommodation – which is particularly useful for younger learners.
The downside
is that people who go to learn English in a group, let's say a group of German schoolkids, tend to remain in their group in England, and speak their own language amongst themselves, rather than speaking English all the time.
So for older learners, people looking for adult courses or business English courses, it is far better to take the plunge, and sign up
directly
to a language school in Britain. There are plenty of schools that will find and arrange accommodation for individual students; and if you sign up individually, you may find yourself in a class or group in which no-one else speaks your language, so it's "English all the way" from the moment you arrive – not just in class, but at home and for your social activities. too.
How to choose a language school
Do you like
city
life? then find a language school in London. Do you want to combine learning English with a
seaside
holiday? Then choose a language school on the south coast of England, or in the south west. Would you prefer the atmosphere of a
university
town? Then choose Oxford or Cambridge, or an EFL course offered in another university! Or do you really want to discover "traditional England?" If so, look for an EFL school that is neither on the coast, nor in London, Oxford or Cambridge! There are less of them, but they do exist!
With regard to courses in
university towns
, please note that a lot of schools use the words "Oxford" or "Cambridge" in their names. This does
not
mean that they are part of, or even acssociated with, the famous universities of Oxford or Cambridge. It does not always mean that they are located in Oxford or Cambridge either. Do not think that the words "Oxford school...." are a guarantee of quality. A language school calling itself the "Oxford school" may be excellent, but it may also be very poor....
What are your guarantees ?
The main organisation promoting the development of British culture and the English language is the
British Council.
The Council audits and accredits language schools, and publishes a list of recognised language schools. You can find this list
here
. You will find a link to each recognised language school.
Where to stay? In a family, in a B&B, in a hotel or on a university campus?
There are all sorts of different possibilities;
►Staying with a "host family".
Please do not be taken in (duped) by glossy advertisements that show a couple of foreign students standing in front of large and a very British house, with smiling "traditional" English hosts who seem to be welcoming the students as part of the family! This can happen, it is possible! But most "
host families
" and other private individuals who take in foreign students do so in order to earn a bit of extra money, not in order to show foreign students the joys of traditional English life. This does not mean that you will not be well received, and well looked after. Most foreign students
do
find a good place to stay; many language schools work with people and families to ensure that their students receive good quality accommodation; and many people who take in foreign students will sometimes take them out and show them places of interest. But others will not.
►.
B&B's and hotels
It is also possible to stay in
B&B or a hotel
, and lots of language schools have negotiated special rates with local establishments. If this is the case, they will probably send you a list of "recommended" accommodation.
► University accommodation
As for staying on a university campus, this is generally only possible during the periods of university vacation. It is a good solution, as the accommodation is specifically designed for students. But please not imagine that this will be a cheap option. University accommodation in the UK is not usually subsidised, and rooms are therefore hired out at the "market rate", which may not be very different to that of a similar room in a hotel.
To
contact
this website, please use the form you will find
here .