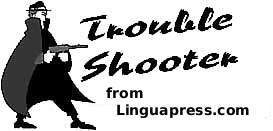 The tricky points of English
Distinguishing between the verbs
make

and

do

in English
The words
do

and

make

in English Make

and

Do

are among the commonest verbs in the English language.




Native English speakers do not mix them up; but they can cause difficulty for speakers of other languages, as many other languages have a single verb that corresponds to both

do

and

make

in English.

Spanish

hacer,

French

faire,

German

machen,

Italian

fare,

Russian

делать, Portuguese

fazer

.... they can all mean either

do

or

make

in English.
Meanings and use of
do

and

make

The fundamental difference between

do

and

make

is that:


expressions with

do

generally focus on a

process

expressions with

make

focus on the

result

of a process
Do

is generally used in expressions that express

actions

:


Examples

:

do the shopping , do your best, do a competition, do something very stupid


In the expression "

do the shopping

", the focus is on the action, i.e. buying things in shops

Make

is generally used in expressions which focus on the result, something that is

created

, acquired or expressed.


Examples

:

make a shopping-list, make a mistake, make lunch, make a lot of noise, make money


In the expression "

make a shopping list

", we are not really interested in the process, but in the result, i.e. the list that exists once it has been written down.

Make

can also imply

cause

:


Example

:

make something happen

,
Take care ! It is not always easy to say if the meaning of a verb is focused on the action or the result of the action.
Do
The most significant uses of

do

in English are

as an

auxiliary

used in negative forms of the simple present tense, as in

I don't speak Latin

(see present tenses)
as a

pro-verb

, used to avoid repeating another (lexical) verb, as in :


You know more than I do.

I got better marks in the exam than my brother did.

as a

pro-verb

used in questions to anticipate the verb that will be used in the answer, as in :


What are you doing ? / I'm writing a letter.

In this example

do

anticipates the verb

write

as a verb denoting action in a limited number of common expressions.
Common English expressions using

do

To do a job / the housework / your homework / the washing up / the shopping etc.
To do something wrong / right.
To do something very quickly / slowly / clever / stupid / etc.
To do your best / To do well
To do business with someone


There are also some idiomatic uses of do, including a couple of

prepositional

uses of the verb to do, notably :


That will do

meaning

That is enough

To do without,

as in

There was no bread left, so we had to do without it at dinner.

To do up,

as in

The house looked very old, but they did it up and now it looks like new.



Make
The verb

make

usually implies cause or creation. It is used four main ways.


Common English expressions using

make

To make breakfast / a cup of tea / a cup of coffee / a sandwich ... etc.
To make a complaint
To make a discovery
To make an effort
To make an enemy
To make an exception
To make an excuse
To make a fortune (= to make lots of money)
To make friends with
To make a move
To make an offer
To make peace
To make a phone call
To make a point
To make progress
To make a resolution
To make a statement
To make a success of something
To make a suggestion
To make up one's mind





Copyright :

Website and texts © Linguapress.com 2017 except where otherwise indicated