Environmental issues - EFL/ESL reading resources
A choice of texts in graded English on subjects concerning ecology and the environment
The critically acclaimed new compact reference gramma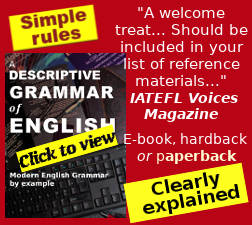 The texts listed below are designed as private reading texts or classroom resources for students of English at intermediate and advanced levels. Each text has been graded according to the CEF (Common European Framework) benchmark for language learning.
Some intermediate texts are classed "C1" - which makes them technically texts for advanced learners. However the C1 ranking in these cases is deceptive, being notably due to the technical vocabulary used; the texts have quite a few long words. In actual fact much of this vocabulary does not make the documents harder to understand for non-native speakers, as these "complicated" technical words will often be similar if not identical to the terms used in the learner's own language – thus making understanding of the text easier, not harder. For example, words like
filter, aerodynamics, recycling
or
physicist
are similar in many other languages, and will not cause any difficulty for speakers of these languages, unless they don't understand the term in their own language... which is a different problem altogether ! As for other new long words that are not international or easily guessable, their meanings are explained in the vocabulary guides.
1. Intermediate English texts - CEF levels B1 - B2 - C1
Other ideas?
EFL teachers: Help develop Linguapress resources by contributing extra teaching materials or exercises.
Click here
for further details