An original cartoon in simple intermediate English
from
Linguapress.com
MacBrain and MacBrawn, our friends from Scotland.....
Cartoon 8 - The new job
Our heroes live in a small town somewhere near Glasgow, in Scotland. MacBrain teaches maths in a high school, and MacBrawn... well it's never been quite clear what he does, but he is one of the non-teaching staff in the same high school. The two share a house, and will go on doing so until - one day perhaps - MacBrain finds the lady of his life....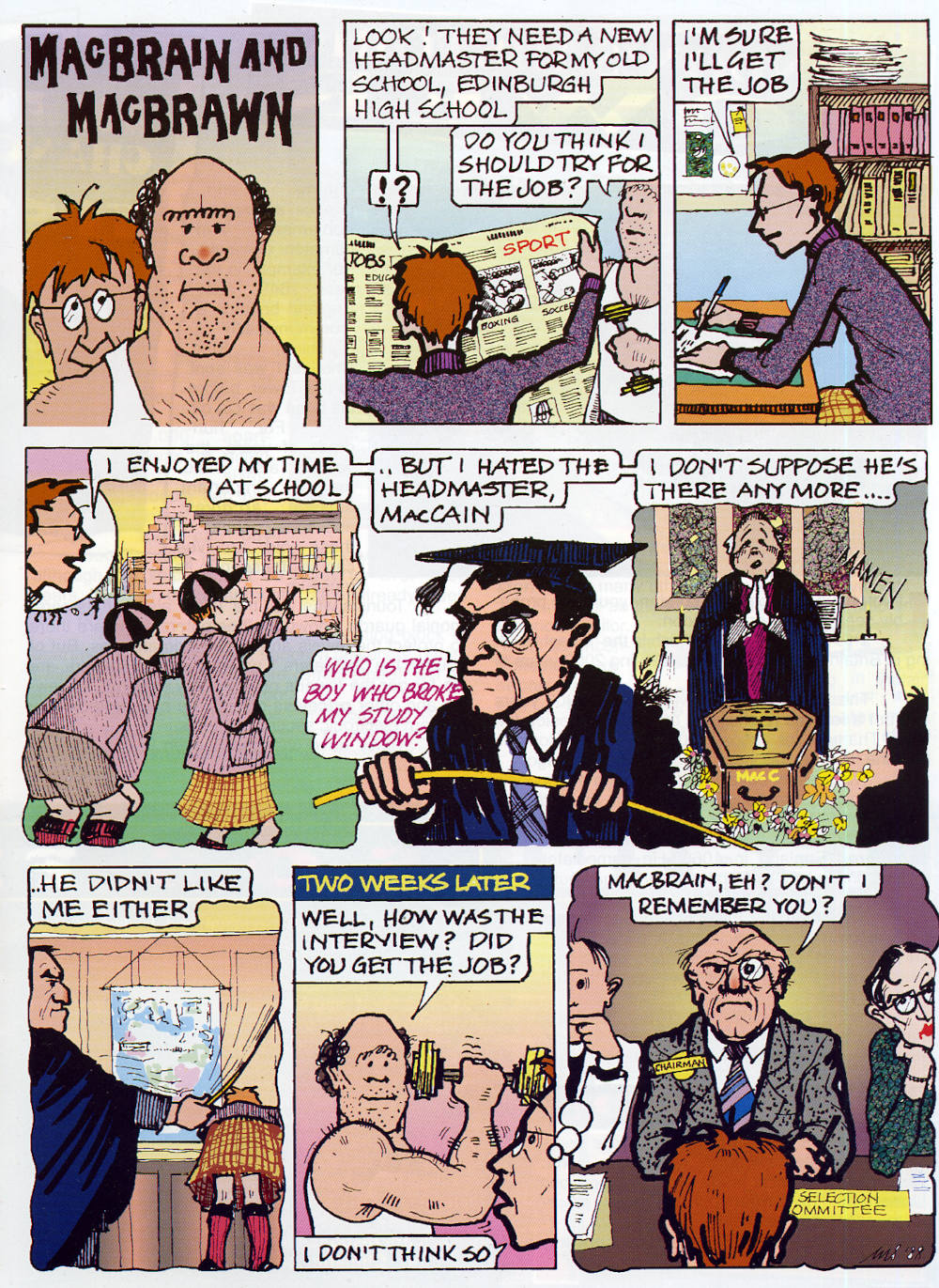 © Moira Spence and Linguapress.com
More (mis)adventures:
Cartoon 1 - Fiona McBelle
.
Cartoon 2 - The walk
.
Cartoon 4 - Wishful thinking
,
Cartoon 5 - The motorbike
Cartoon 7 - African Safari ?
Cartoon 9 - Hang-gliding champion
and more
---
Teachers' notes
Using story cartoons in class.
Cartoons like this make excellent supports for creative language work.
The most simple classroom activity is to have students describe the story in their own words; this can be done either as an individual task, as group work, or as oral work in class.
Alternatively, the story can be told from the point of view of one of the characters.
This cartoon touches on the issue of corporal punishment. This was a common practice in schools in the UK until the 1980s. It was banned in all state schools in 1986, and in private schools in Scotland in 2000. MacCain, the former headmaster, is wearing a headpiece called a mortarboard. These were commonly worn by school teachers until the end of the 20th century, particularly at formal occasions. They are still worn in some contexts, but are most commonly associated in the 2020s with university graduation ceremonies, for which they have spread from England and the USA to countries all round the world. The mortarboard has also become the iconic symbol of education worldwide