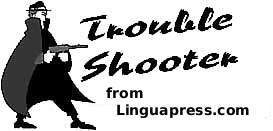 Tricky points of English ...

Explaining the everyday words and grammar points in English that can cause most confusion
Adverbs of degree

in English
Meanings and usage
General principles
Adverbs of degree
Adverbs of degree or of intensity are used to modify the intensity of qualifying adjectives. and sometimes of other adverbs.
The
main adverbs of degree
are:
enough, extremely, fairly, highly, pretty,
quite,
rather, slightly,
so,
(all) that, too
, very.
Several more adverbs, such as
incredibly
or
positively
, can be used as adverbs of degree, though they imply more than just degree.
Generally speaking, adverbs of degree come before the adjective they qualify, but this is not always the case.
We need to distinguish between adjectives that are used attributively (i.e. before the noun) and those used predicatively, which normally means after the verb be. Compare the way good is used in these examples:
Attributive
and
predicative
adjectives
Attributive use:
a good book.
or
good children
or
three good reasons
Predicative use
:
This book

is good

,
Those children

are not very good

. His three reasons

seemed good.
How adverbs of degree are used in English
Very, extremely, fairly, slightly

and adverbs of degree formed from adjectives are always placed before the adjective they qualify, whether the adjectives are in attributive or predicative positions. Examples 1 - 6

Enough

as an adverb of degree comes, exceptionally,

after

the word it qualifies, whether the adjective is attributive or predicative. Examples 7.

Rather

and

quite:

when qualifying an attributive adjective,

quite

and

rather

can either be used in the normal position before the adjective, or can come between the adjective and the noun. i.e. we can choose between

a rather good book

and

rather a good book,

or

quite a nice guy

and

a quite nice guy.

With

rather,

the choice is generally open, with

quite

it is more usual to say

quite a

than

a quit

e.

Examples 8 & 9.

So

is used normally when it modifies a predicative adjective.

So

is not used with attributive adjectives, but

such

is used in its place, and like

rather

,

such

comes before the article, i.e.

such a good book.

Examples 10.

That

, and sometimes

this

,

(

that

and

this

as adverbs of degree meaning

to such a degree

) and

too

are used differently depending on whether they qualify an attributive adjective or a predicative adjective. With predicative adjectives they are used normally, before the adjective. They are not often used with attributive adjectives, but this usage is not impossible. Yet when they are used in this way the adjective must be followed by

a (an)

before a singular count noun Examples 11 - 12.
Pay particular attention to the examples
highlighted in yellow
.
Examples :
adverbs of degree
qualifying attributive adjectives,
and
qualifying predicative adjectives.
Very

This is a

very useful page

about grammar - This page

is very usefu

l.

Extremely

This is an

extremely useful page

about grammar ! This page

is extremely useful.

Fairly

- I had a

fairly good day

today. My day

was fairly good

.

Highly

-

It was a

highly complicated situation

to be in.. The situation

was highly complicated.

Pretty

- There's a

pretty obvious answer

to the question. The answer

is pretty obvious

.

Slightly -

I'd like a

slightly cheaper alternative

, please! This alternative

is slightly cheaper

.
Enough

- That's

a

good enough

answer! That answer is

good enough

.

Quite -

That's

quite a good

answer! That answer

is quite good.

Rather -

That's

a rather good / rather a good

answer! That answer

is rather good.

So / such

- This is

such a good

answer. That answer

is so good.

(All) that

-

That simple a

solution is amazing. The solution

was not (all) that simple

.

Too

- I don't think he's having

too good a

time ! This

is just too good.
For more information, check out pages on
enough
,
so
, and
such
Copyright :
Website and texts © Linguapress.com except where otherwise indicated
Return to Linguapress home page