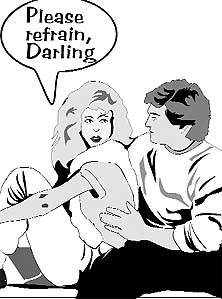 All languages are full of complicated but useful words - the kind of words you might read in a newspaper or on the Internet, yet easily misunderstand. Can you choose the correct synonym or explanation for each of the following?
►
Actual
: present, real, immediate.
►
disclaim
: talk loudly, deny, refuse
►
deserve
: stop serving, merit, serve
►
invaluable
: of no value, of little value, of great value
►
ghastly
: spiritual, very bad, very good.
►
to
ponder
: to think carefully, to add weight, to lay an egg.
►
to
subside
: to go down, to give money, to reduce
►
to
injure
: to talk abusively, to hurt, to please
►
contiguous
: without end, touching, long-lasting.
►
to
refrain
: to sing loudly, to do something again, to not do something
Check out the correct answers with a dictionary or your teacher.


Copyright notice.
This document, text & photo, is copyright © Linguapress.com 1999-2016.
Originally published in Spectrum magazine.
It is
free to use and print
for individual use, or for use by teachers with their classes.
It may not be reproduced on other websites or in print form for distribution.
In schools declaring the source of copied materials to a national copyright agency, Linguapress advanced level crosswords and resources should be attributed to "Spectrum" as the source and "Linguapresss France" as the publisher.
Multicopiage en France: en cas de déclaration CFEDC par l'établissement, document à attribuer à "Spectrum", éditeur "Linguapress".